Twin Double Drum Spiral Freezer manfacture by Advanced Equipment Inc.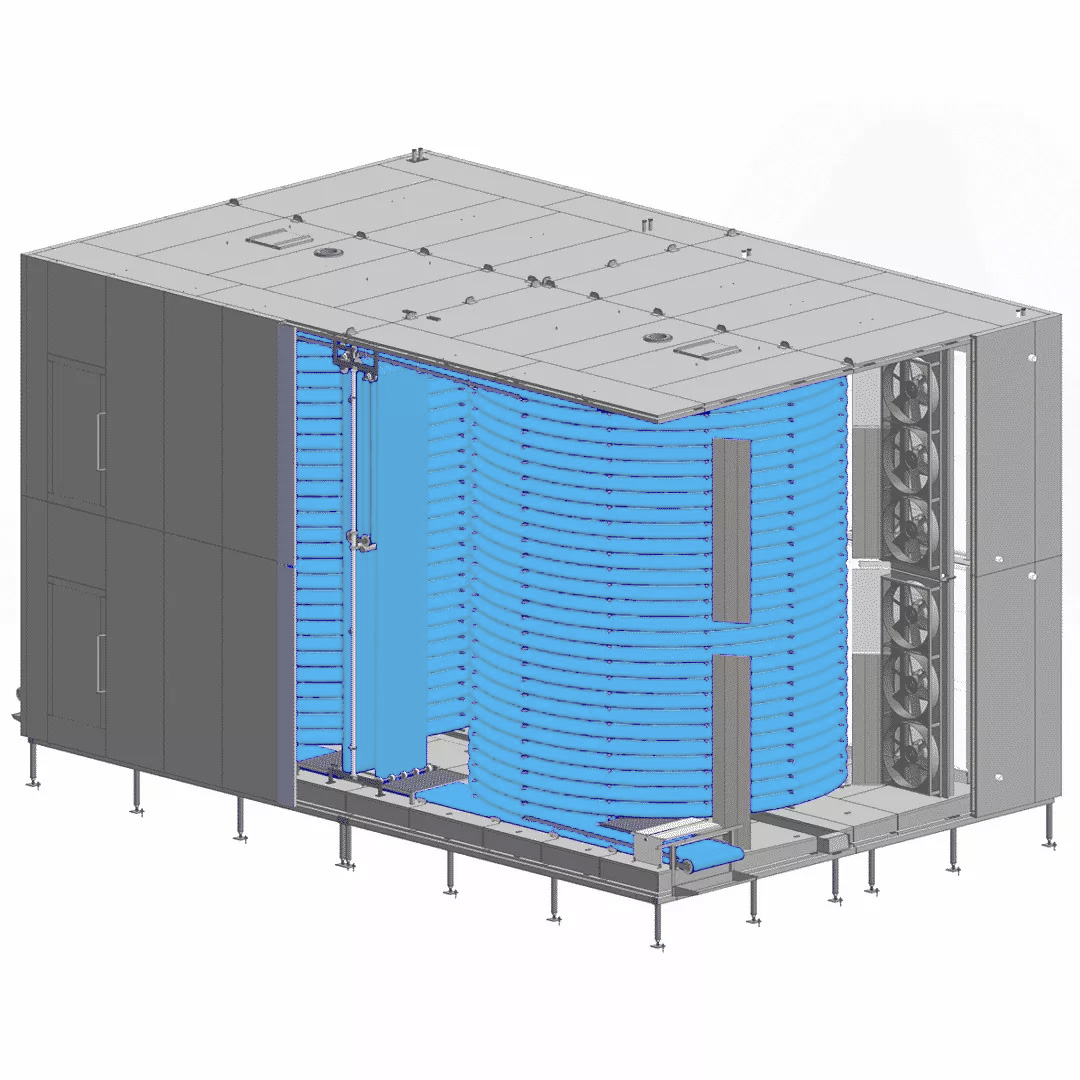 Advanced Twin Double Drum Spiral Freezer
The new Twin Double Drum Spiral Freezer manfacture by Advanced Equipment Inc. feature many hygienic features as standard, for example, a fully welded floor and open steel sections used for the framework. In addition, there are also options such as a fully welded and easily cleaned enclosure and advanced cleaning systems.
The Advanced Twin Double Drum Spiral Freezer is designed to enable an easy installation on production floors where space is restricted. The Advanced Twin Double Drum Spiral Freezer is available as either a conventional low tension spiral or, as an option with DDS (direct drive system) which can offer reduced belt tensions and smoother running. The construction of the drum is designed for fast setup and efficient local installation. This flexibility continues throughout various single- and dual-drum designs and offers several possibilities for in-feed and out-feed conveyors. As a result, it is easily possible to integrate an Advanced Twin Double Drum Spiral Freezer system in existing production lines.
The new freezers and coolers not only combine the positive characteristics of other series in one modular concept: they also offer the benefits of numerous innovations – for example, optimized operator-friendly controls, and safety functions specially designed for operational conditions.
Advantages(comparing with tunnel freezer with same output capacity):
Saving energy consumption;
Saving flour occupying;
Retention time is much flexible; the adjusted range is larger.
---
Twin Double Drum Spiral Freezer manfacture by Advanced Equipment Inc.
Ideal solution for packed or large size products
WORKING PRINCIPLE
The Product is fed directly onto the freezer conveyor belt and transported into the freezing zone.A Conveyor belt on tier carriers travels up around rotating drum that driven by central capstan drive. The cold air is circulated continuously through product surfaces and evaporator coil by axial fans. Cold air will rapidly freeze the product during conveyor belt movement from in-feed to out-feed.
A unique built in full Stainless Steel construction, Advanced Twin Double Drum Spiral Freezer has set new standards in spiral freezer design and ergonomics, allowing for operational efficiency, ultimate durability, low maintenance, easy cleaning and great flexibility.
Drum spiral freezer of hygiene design features a unique pattern of air circulation, ensures even and quick freezing without excessive airspeeds that might damage delicate products.
Each freezer can be customized to meet individual customer requirements.
KEY FEATURES
Flat low tension belt design for ultimate life cycle
Handling capacity from 500kg/hr to 6,000kg/hr
Single or double drum, twin belt systems available as well
Range of belt sizes and link heights available
Multitude of belt in-feed/out-feed layout combinations
Special frost tolerance designs for extended run times
PLC touch screen control to optimize operation
Range of automated Clean-in-Place (CIP) sanitizing systems
Open profile and non-hollow design for frame members and parts, easy access everywhere.
Stainless steel construction and fixings for improved life and hygiene High identify plastics-All plastics are made from UHMW
polyethylene(PE) & acetal(POM), which are approved for food contact to ensure safety
A variety of customized options available to meet specific application conditions
OPTIONAL ITEMS
Sequential defrost systems
Steam injection defrost systems
Seam welded enclosure available
Stainless support platform available
Customized layouts and spiral rotations+
Ideal solution for packed or large size products
Products: Poultry, meat patties, raw shrimp, fish fillets, scallops, whole fish, packaged food in trays, ice cream cups, products requiring a long retention time.
APPLICATION
Drum spiral freezer is suitable for freezing and chilling food that requires medium to long retention times, especially suitable for large or packaged products, such as poultry, pizza, ready meals, potato products, fish&seafood, desserts, bakery products and ice-cream.
MAIN STRUCTURE TWIN DOUBLE SPIRAL FREEZER
1. Stainless steel conveyor belt:
The conveyor belt is made of food grade stainless steel. The surface of belt is flat and neat. There are baffle edges on both sides of belt, which can prevent the products from dropping down.
2.Insulation panels:
PUF sandwich panels, 150mm thick with 42kg/m3 density, laminated both sides by stainless steel sheet.
3.Door:
Equipped with double seals and frame heating system
4.Inner structure:
The drum is designed in squirrel cage structure, and the components on which touching with conveyor belt are in arc shape. We inlaid the column bar of drum with UHMW-PE (ultra high molecular weight polyethylene) materials which have a good wear-resistance performance.
5.Driving device:
Speed reducer + Variable speed controller
6.Evaporator and fan:
Both the fins and tubes are made of aluminum alloy. The frame structure of evaporator is made of food grade stainless steel. The air-box of axial fan is made of food grade stainless steel while the fan blades are made of aluminum alloy.
7.Belt tension device:
We adopt floating axle weight as belt tension device. The tension degree of conveyor belt can be adjusted.
8.Water slot (water plate) and drainage design:
The water slot will be installed on top of floor panels. It is made of food grade stainless steel. The water slot has proper slope to facilitate water discharging and avoid defrosting water penetrating into the floor panels.
9.Inlet device and outlet device:
Both the inlet device and outlet device are made of food grade stainless steel.
10.Control panel:
We adopt Schneider or Siemens electrical components.
---
---
The best IQF freezer for quick freezing all kinds of fruit & vegetable and some of the seafood.
Adopts the two stage belting structure---firstly, quick-cooling stage. Secondly, deep-freezing stage. Independently speed control system, and the speed of the two mesh-belts can be changed infinitely.

1.Quick-cooling stage---the food particles are to be quick cooled after entering into the blast room. The surface of the particles would frozen and reach the temperature of 0 C. meanwhile, with the help of the striking chain, the particles would neither stick together nor sticking on the stainless steel mesh-belt.

2.Deep-freezing stage---the food is to be moved on a stainless steel mesh-belt, the foodstuff layer loosens with the increasing of the airflow. Some of the foodstuff particles become floating(this is the reason why this equipment is not applicable to big bulk foodstuff) when the air pressure reaches a certain scale, which brings interspace among the foodstuff particles, that is the way the fluidized bed come into being.
The floating particles frozen quickly and individually because they are blowing with strong cool air from all directions.
spiral freezer Descriptions,
Evaporator, adopts the aluminum tube coated with aluminum plate, unique alternative fin space design, which helps to prolong the defrosting time.
Heigh pressure fan, to guarantee the foodstuff to stay floating and prevent the particles from sticking together
Standard heat preserving board, quickly assembled, combined closely, superior heat preserving effect
Evaporative temperature, -40C
Condensing temperature, +35C
Defrosting: water
Defrosting time: every 8-12 hours, last no more than 2 hours each time
Electronic control panel, control the speed of the mesh-belt, processing time, display the running speed and inner temperature.
                                                                       DOUBLE SPIRAL FREEZER

15~90mins (depends one different food and different conditions)

Note: 1. Spiral Freezer is based on freezing chicken. Loading density: 5.5kg/m2, in feed temperature: +50, out feed temperature: -18, freezing temperature:-35±2.
2. Depending on the different products, the freezing time can be adjusted
3. Refrigerant capacity is counted on the base of +35 condensing temperature and -42 condensing temperature.
4. The technical parameter can be design nonstandard depending on the freezing food

TWIN DRUM SPIRAL FREEZER
Freezing Capacity Range: 2,200-22,045 lb/hr or 1,000-10,000 kg/hr
Key Features: The Twin Drum Spiral freezer is designed to freeze a large quantity of products in less space, especially for products needing long freezing time such as bulky foods, or raw poultry and meat. We can customize the freezing process to meet your various demands. The twin drum freezer is an ideal solution for mass production process.
Benefits:
Pre-assembled and fully tested at our factory before shipping.
Ready to be placed and connected to refrigeration, electrical and water service.
Built to USDA, FDA, UL, CFIA, OSHA and CSA Specifications & Standards
Continuous inline food freezing.
Gentle, smooth handling of products.
Compact design lowers operation cost and saves floor space.
High efficiency allows for fast freezing.
Minimum product weight loss by exposure to lowest air temperature at all times.
Stainless steel construction.
Easy access to sanitation and maintenance from all sides
Multifunctional PLC system.
Stainless steel rails are covered with a UHMW polyethylene wear strip for many years of smooth and maintenance-free operation
Modular Design for easy and quick on-site installation.
Custom designs to fit your requirements
All seamless welded stainless steel enclosure with robust welded steel support structure.
Customized airflow for efficient heat transfer.