Contact Belt Tunnel Freezer Manufacture by Advanced Freezers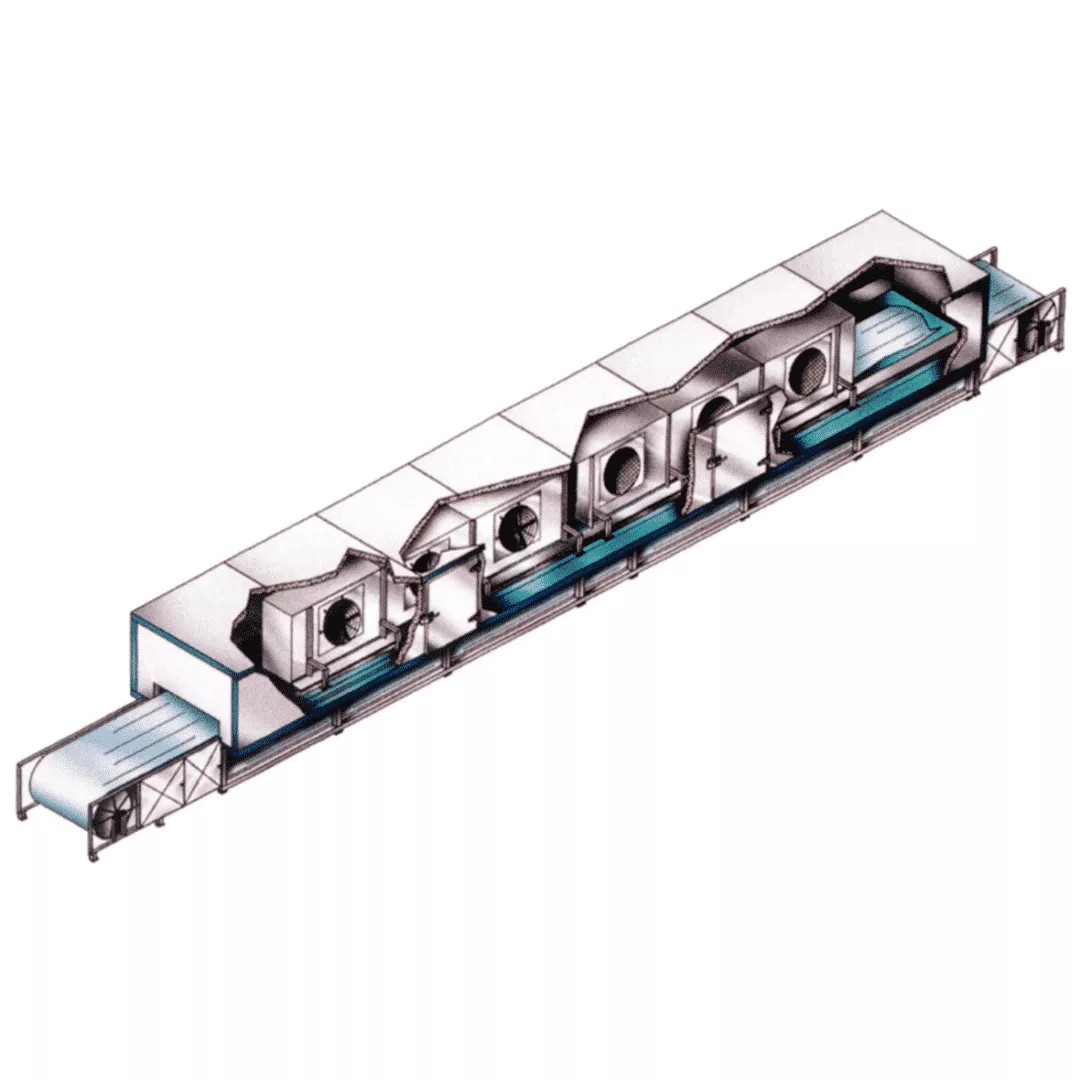 Contact Belt Tunnel Freezer
Pre-assembled at our factory and fully tested, easily assembled on site. Contact Belt Tunnel Freezer Manufacture Advanced Equipment inc is designed for Wet, fluid or soft high moisture products or soft extruded products.
The CASCADE belt is a twin belt incline freezer providing positive conveying of products.
The product is mechanically agitated in a thin layer on the first belt, which allows the product to be crust-frozen to seal in the moisture and assure product separation. The product is then transferred to the second belt where it is accumulated in greater depth. In this stage, the product is further subjected to an upward airflow and the product is individually fluidized and frozen completely. The packaged freezer is pre-assembled and tested at our plant ready to be placed at your plant site.
Consists of cold rolled stainless steel band, aluminum air units (evaporators), insulated enclosure, control panel and supporting frames. It is completely assembled and pre-wired in modular sections for easy installation and for future expansion in freezing capacity. The product is loaded manually or by spreader shaker onto the stainless steel band belt from one end, then the product travels into the tunnel sections, where the high velocity, -35 As blasts horizontally across the top of product surface and under the belt. The horizontal air direction alternates from one section to the next so as to achieve even freezing. The frozen product then exits the tunnel sections, sliding off the belt smoothly without any marks. The product is frozen into the same form as it was when loaded in the inlet end.
APPLICATIONS
Used for Wet, fluid or soft high moisture products or soft extruded products. Also cooked or fried products requiring no marking on product such as fish fillets.
RED MEAT INDUSTRY - raw meat, hamburger patties
SEAFOOD INDUSTRY - raw scallops, fish fillets, raw shrimp
OTHER - products in trays at reduced capacity, products in slush or extruded forms
BENEFITS
Pre-assembled at our factory and fully tested
Easily assembled on site
Capable of a wide variety of product
Continuous inline food production
Gentle smooth handling of product
Lowest reliable operation cost
High-efficiency airflow and heat transfer
Expandable to a larger capacity
Easy access to sanitation and maintenance
Built to USDA, CFIA, FDA, OSHA, UL AND CSA – Specifications & Standards
LOW INVESTMENT
One of the most economical freezers offered in this class. Every component of the freezer evaporator, conveyor belting, and high-efficiency enclosure is manufactured in our highly experienced engineering and manufacturing facility. We can afford to pass on the savings to you, our valuable customer, without sacrificing quality.
FREEZING QUALITY
Assures excellent product freezing quality and reduced shrinkage loss by continuously agitating the product during the crust freezing stage and the fluidization freezing stage. The positive and precise conveying of the product throughout its freezing cycle assures positive even freezing times.
The more you know about freezers, the more you will look at advanced equipment inc. as your reliable supplier.
We hold key patents on IQF freezing that provide important advantages, combined with fact almost every part of the freezer in manufactured in in-house.