Packaged Brine Shower/Glaze/Dryer Freezer for whole saltwater seafood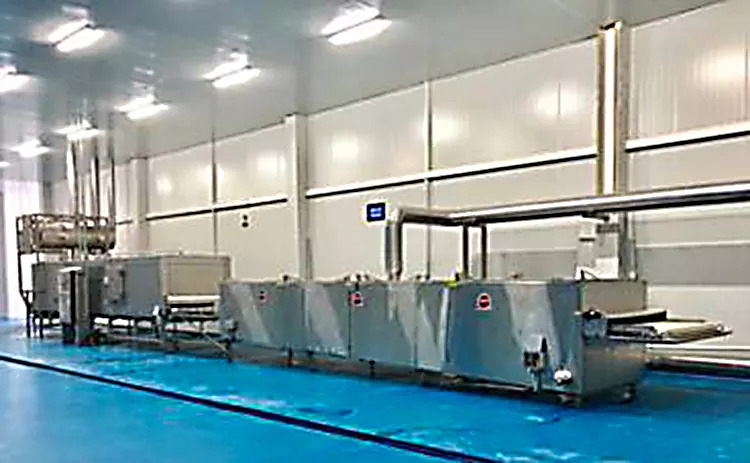 Packaged Brine Shower, Glaze, Dryer Freezer
Advanced Equipment is a Packaged Brine Freezer Manufacrurer that combines compactness with a highly sanitary efficient conveying and freezing system, ideally suited to handle a wide variety of whole seafood for Seafood Processors.
The Packaged Brine Shower/Glaze/Dryer Tunnel freezer is designed to freeze a wide variety of seafood products. Such as Shrimp, Fish, and others at higher refrigeration temperature to save freezing horsepower consumption then air freezing methods.
The application is perfect for saltwater seafood with skin protection, it enhances the taste.  
Brine freezer is limited to saltwater seafood freezing application and limited to seafood with shells or skin.
NOTE: Not for any other usage.  Such as whole fish, shrimp, lobster, crabs.              
ADVANCED PACKAGED BRINE TUNNEL FREEZERS are completely factory assembled, wired and tested, for minimum site installation time.  Units are shipped in separated pieces and joined at the job site.
ADVANCED PACKAGED BRINE TUNNEL FREEZERS are built to USDA, AMI, FDA, ASHRAE, UL, CSA cleaning, efficiency, and Safety Standards.
The Product is sort and loaded in plastic baskets to be feed evenly on the tunnel freezer belt into the Brine Shower, Chill water Glaze, Air Drying Hardening zones with high-efficiency fast freezing conditions.
Frozen of the product during all phase of freezing stages to assure proper freezing time and even freezing and good IQF quality of the product.
For maximum product variety range, each belt speed is electrically driven and adjustable for the proper freezing time by adjustable VFD controller.
The Brine NaCl are chilled with a high-efficiency heat exchanger to deliver -18C (0f) brine to the product.
The after the glazed product is further dried by -40f air unit heat exchanger by high-efficiency airfoil axial fans.
Safety, ease of cleaning and maintenance, as well as high efficiency, low power consumption, has been prime considerations in the design of the freezer.
Construction is of exceptionally high standards using heavy-duty components. This results in a very rugged machine well suited to the extreme conditions in which it must perform.
Enclosure with high-efficiency insulation rating is used to minimize heat transfer through enclosure walls.
The Packaged IQF Tunnel Freezer is supplied with all electrical components, including the control panel.
Optional items for cleaning, refrigeration control and evaporator defrosting are offered.