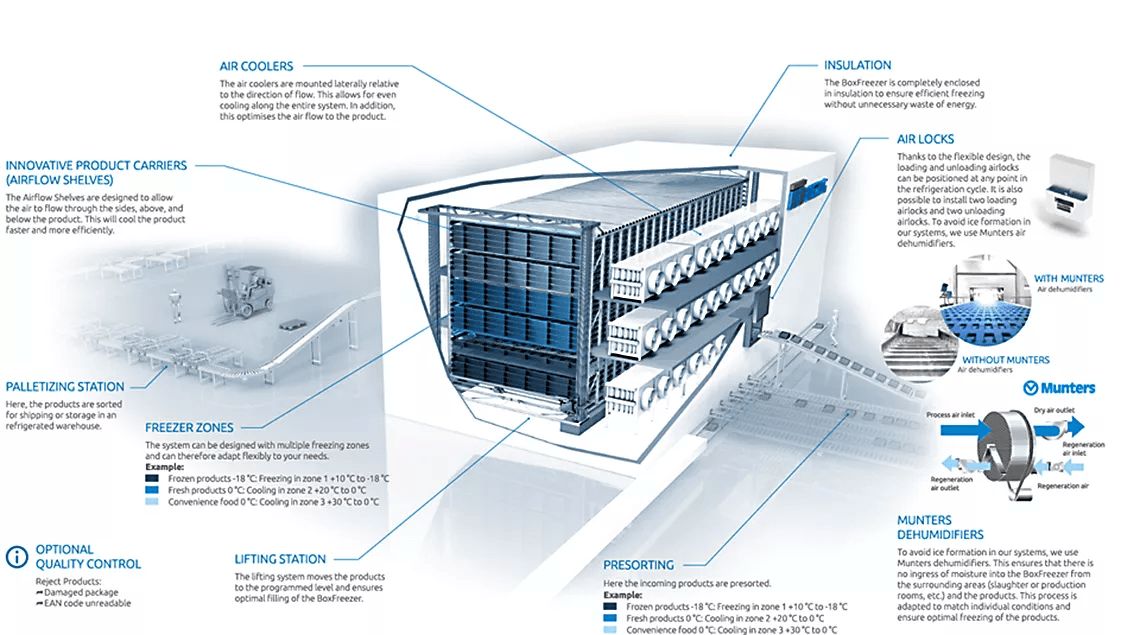 NEWS: Advanced Equipment is the Exclusive North American Distributor  for BoxFreezers for

Customized Carton Type Freezer Tunnel with high capacity MRT (Multiple Retention Time) and VRT (Variable Retention Time)
Features and Innovations

AAT BoxFreezer can freeze or chill your products in cartons, plastic totes or shrink-wrap. Our tunnel carton freezer ensures rapid freezing that preserves your products optimally. Any packaged product - cartons, boxes, trays or bulk containers
The pre-sorting system, the advanced freezing unit and the output distribution all contribute to product quality, while lowering labour costs.
The AAT BoxFreezer freezes or chills large quantities of different sized boxed products at the same time. Plus we can automate your production line to loading dock process and save labor dollars with AAT BoxFreezer.
Boost $ Profits imagine the $ Savings on power and labour costs with the flexibility of 3 freezing zones, staff can walk in while running to any part!
Features of AAT BoxFreezer SRT, MRT, VRT Tunnel
Single Retention Time Tunnel and Variable Retention Time Tunnel
offers temperature control with the ability to simultaneously handle different products.
Fully Customized
Manufactured according to required capacity, dimensions and integration of the total production cycle from production to packing area.
Due to this flexibility of construction for the individual tunnel, you gain optimum utilization of available space, which is very difficult with other types of tunnels, where the customer has to adjust available space to the tunnel.
Energy efficient design of our tunnel freezer meets industry requirements, while saving you money on your power bill and boosting your profit.
We listen to our customers. Necessity can be the origin of great, new innovative features. Since 1986, we have been improving our freezer systems.
Efficient Horizontal airflow freezing
A Carton freezer minimizes retention time for the boxed products by maintaining both the air freezing temperature and air speed with a horizontal throughout all levels. A box freezer reduces work load and time with a resulting labour cost reduction.
Carton freezing system can at the same time handle various product sizes and types with different chilling and freezing needs.
Optimal  Flexible, we can fully integrates with your in-line process to support a wide range of freezing and chilling applications. System can handles products from your production room to the freezer or chiller to your palletizing area.

Unique Two  Box freezer Models to satisfy all food plant needs
MRT (Multiple Retention Time) and VRT (Variable Retention Time) Tunnel Freezer with up to 3 unique freeze zones for products.
AAT freezers and chillers handles every type of packaging, including carton boxes, crates, trays and containers of any kind in bulk.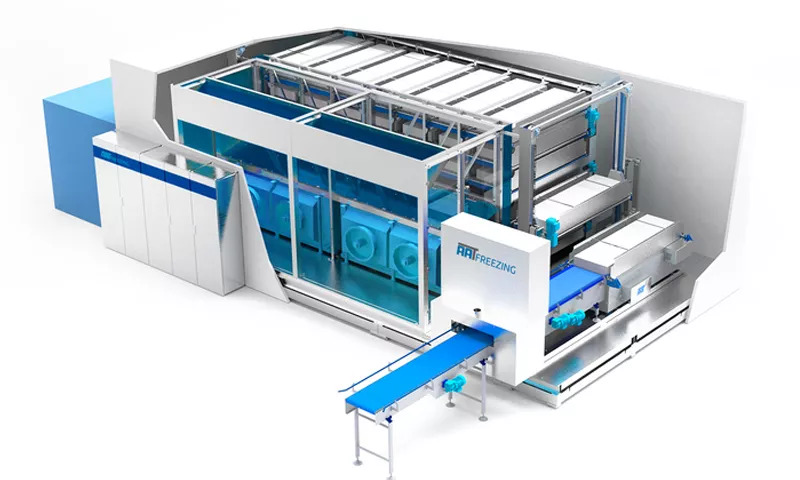 CUSTOM AAT BoxFreezer available with 3 Independent freezing zones for products needing different freezing processes, gentle handling.
MODULAR AAT SmallBox Freezer is easily extended or relocated with very low assembly costs on site as delivered in finished modules.
AAT BoxFreezer Design Advantages
1) Transverse Air Stream The freezing blowers are arranged on the side of the freezer so that the airstream blows directly into the product stack. The freezing air reaches the product faster and shortens the freezing time. The total air path is shorter than in other systems because the air only has to cross the width of the plant. That means that if the plant is 30 meters long and 6 meters wide, the system only has to chill the 6 meters. The result is a better temperature consistently and more uniform freezing of the products.
2) New Advanced Multitemp Up to 3 freezing zones that can be programmed independently: For example. Zone 1 used for shock freezing to −20 °C, zone 2 for cooling, zone 3 can be switched off, saving energy.
3) Flexible In and Output The locks are customized to suit your existing plant layout keeping transport paths as short as possible, minimizing space with a more flexible line design.
4) Accessibility Workers can enter the Box Freezer even while it is running because only the product zones are refrigerated. Apart from the flexibility of size, we can offer various choices as to input and output of products.
Ready to Increase Production?
Give us a call and an Advanced freezer expert can help guide you to the next level. You can also schedule a free consultation on an AAT BoxFreezer.