Clean-in-Place CIP Freezer Sanitation
Advanced Clean-In-Place CIP manufacturer and Sterilization-In-Place (SIP) systems provide automatic cleaning and disinfecting without major disassembly and reassembly work, saving plant downtime and major labour costs
With the automatic Advanced IQF freezer cleaning-in-place system (CIP), all you have to do is press one button and the system will clean itself. It will run on timers through washing cycles, any modern washing machine.  CIP cleaning systems are extremely beneficial for operations in which interior surfaces of equipment such as tanks and pipes cannot be easily reached for cleaning.
As a Clean-in-Place CIP Manufacturer we retrofit  low profile CIP systems for existing food plant freezers systems
Every Clean-in-Place CIP retrofit upgrade is adapted to customer requirement and always leads to noticeable savings. Individualized Custom Food plant freezer specific configurations offer fast installation and short downtime. Complete integration into the existing process control system ensures automatic and trouble-free cleaning and higher economic efficiency at the same time.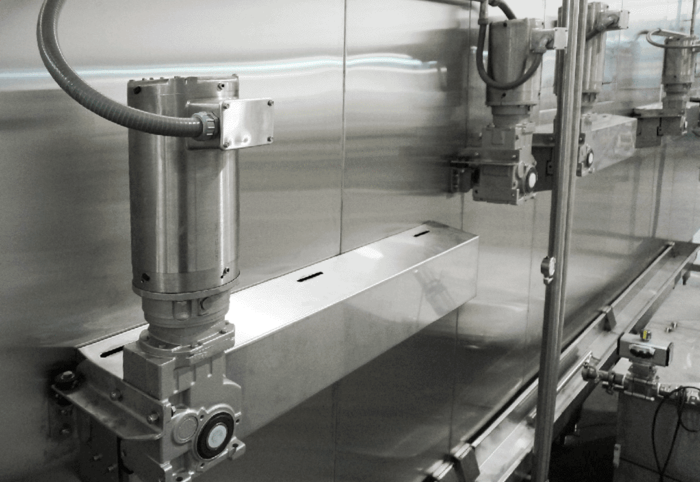 Cleaning-in-Place CIP Manufacturer Simplicity in design
Minimal hard-to-reach places and fewer crevices
More open areas that are easy for system nozzles to spray
Direct drive systems on spiral freezers, instead of unsanitary chain drives
Drive systems mounted outside of the product area to eliminate sources of contaminants
All major belt structure supports are moved outside of the product area
Open style CIP tank for easy cleaning and inspection
Entire freezer floor is sloped to drain to the CIP collection tank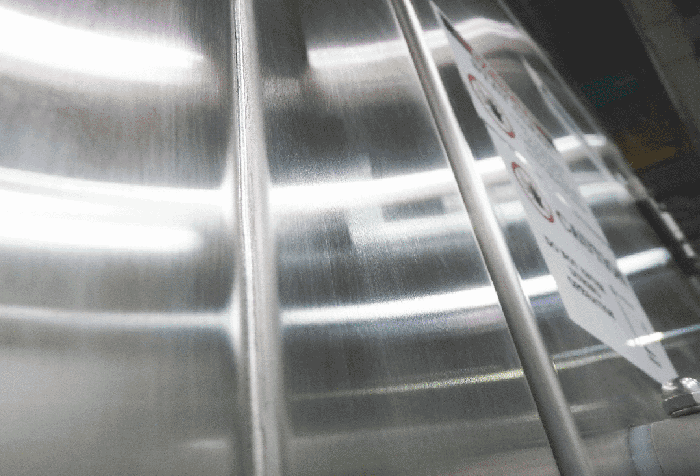 CIP Clean-In-Place SIMPLICITY in Cleaning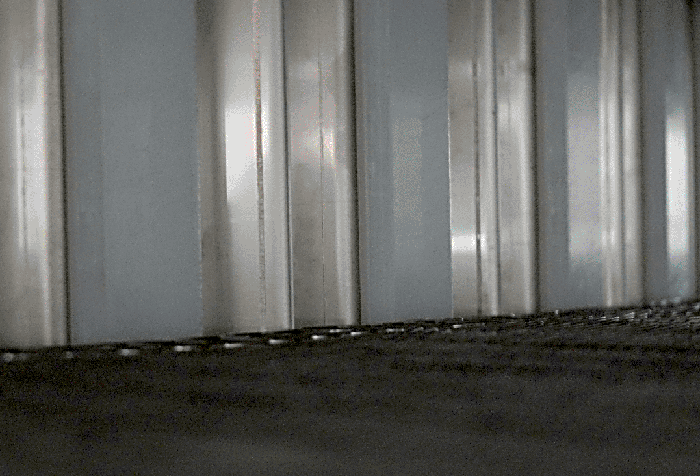 CLEANABLE MATERIALS
Everything besides the aluminum fins on the coil. The plastic belt, if equipped, is made of stainless steel or food grade hygienic plastic
Coils are built with aluminum or stainless steel tubing with aluminum fins
Optional plastic colour-coded belts for easy identification to prevent contamination
Minimum 304 stainless steel with 2B finishing with optional 316 stainless steel
Preference for smooth surface belts for easy cleaning
All belts are approved by USDA and FDA for use for food processing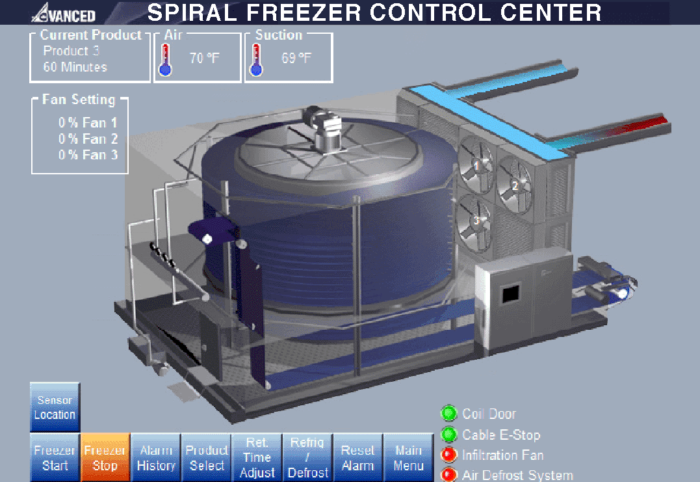 EASE OF OPERATION
Optional feature for steam sanitizing, with a steam distribution system
All parts are rated for steam temperature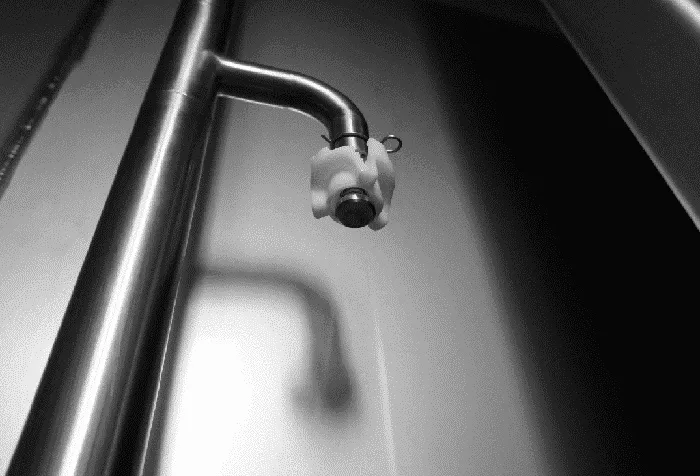 REDUNDANT CLEANING / COMPLETE COVERAGE
More spray nozzles and overlapping coverage to eliminate dead zones
Belt washing system cleans the entire belt and is a standard feature
Coils are washed completely, from the side and from the top
Coils can be equipped with inline tubing, which has a continuous plate fin design deep throughout the row without any gaps for collecting debris or frost