Fruit, Berries IQF - Individual Quick Frozen
Advanced Equipment IQF tunnel freezers preserve the natural colour, flavour, texture of fruits and berries. Our fruit IQF freezer systems, or fruit IQF freezing process, will individually freeze a wide range of fruits and berries, including strawberries, blackberries, blueberries, raspberries, apple dices, peaches, and many others. Versatility is why so many food production plants rely on the superior performance offered by an Advanced IQF tunnel freezer
Our fluidized tunnel freezer is generally used for small IQF (Individual Quick Frozen) fruit and vegetable products that range from 3/16 to 2 inches in diameter. Designed to retain the individual shape and weight of berries and fruit during the freezing process. When it comes to quick freezing fruit, you can count on an Advanced IQF tunnel freezer.
Advanced Tunnel Freezer Systems for Fruit
Advanced has been designing and manufacturing IQF fruit freezing systems for over 30 years. Decades of freezer research and development has made Advanced a globally recognized brand for spiral and tunnel freezers. When it comes to fruit IQF processes, Advanced has perfected IQF freezing data for berries and fruit.
If you have an obscure berry or fruit product you need to individually freeze, don't panic. Our engineers can easily tweak your tunnel freezer for maximum freezing performance. All our tunnel freezers are designed to be assembled in our factory, then disassembled and shipped to minimize site installation time. Advanced IQF freezers are designed to occupy minimal space, reducing the cost of ownership. All our spiral and tunnel freezers are built to USDA, FDA, UL, CFIA, OSHA, and CSA - Specifications & Standards.
Do you have a question about IQF and fruit preservation?
Give us a call and an Advanced engineer can answer any questions or concerns you may have. You can also schedule a free consultation on a fruit IQF tunnel freezer.
Modular IQF Fluidized Tunnel Freezer
The CASCADE pass belt arrangement is an inline freezer providing positive conveying of product. The freezer is a continuous, cascade, inline, positive conveyed freezer that assures accurate freezing time and high freezing quality with low operation cost.
FRUITS INDUSTRY: Blueberries, cranberries, strawberries, cherries, diced pineapples, diced mango, sliced peach, sliced apple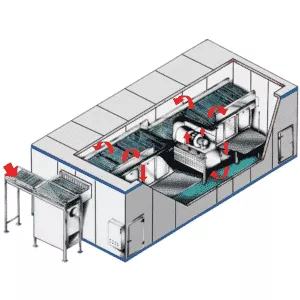 Packaged IQF Fluidized Tunnel Freezer
The CASCADE belt is a twin belt incline freezer providing positive conveying of products. Assures excellent product freezing quality and reduced shrinkage loss

FRUITS INDUSTRY- Blueberries, cranberries, strawberries, cherries, gooseberries, raspberries, diced pineapples, sliced apple