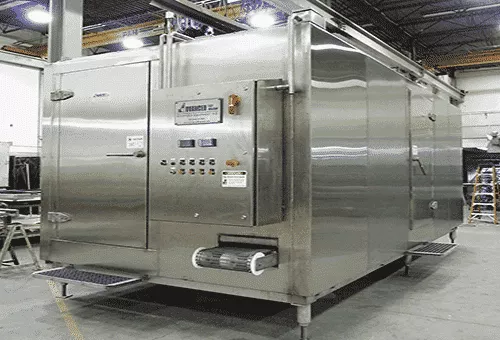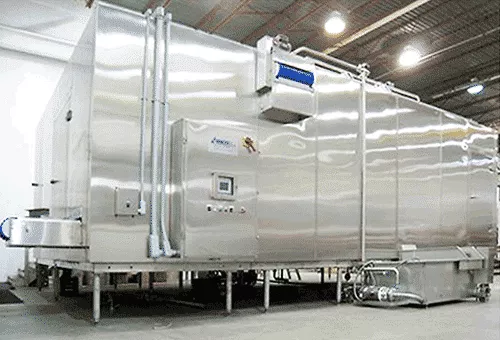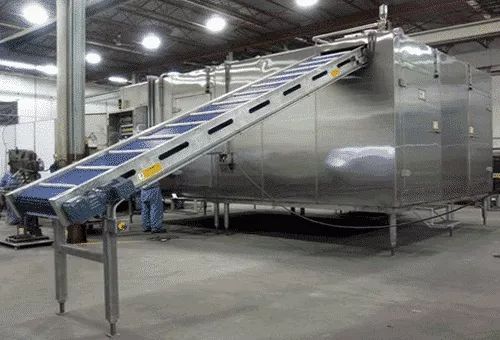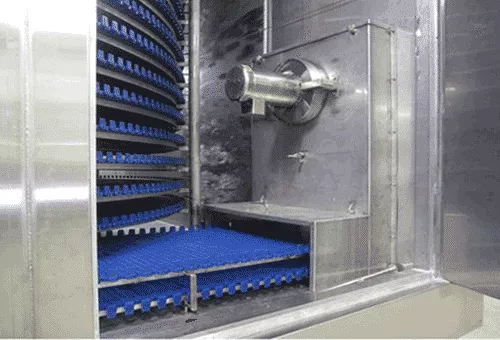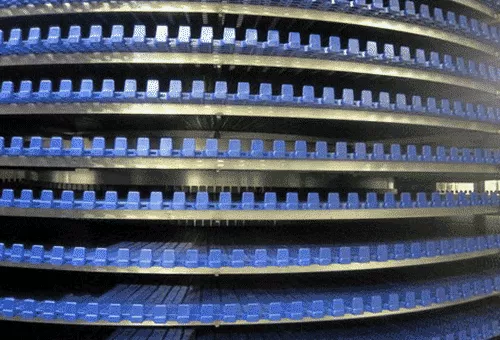 Free No Cost, No Obligation Prices
For Budgeting Estimates
For Buying Quotation
Get a Freezer Engineer  Recommendation:
Best for Food Industry
Best For Your Budget
Best For Future Expansion
Subscribe to our YouTube Channel
Advanced Packaged Spiral Freezer - Advanced Equipment Inc.
IQF Packaged Spiral Freezers Designed for Small & Medium Capacity. A continuous in-line-belt freezer designed to minimize product weight loss and assure quality gentle handling during the freezing process.
Built to USDA, FDA, UL, CFIA, OSHA, and CSA - Specifications & Standards
Advanced Spiral Freezer Systems
The Advanced Equipment packaged IQF spiral freezer processes small capacity (1-2,000 lbs per hour) to medium capacity (8,000 to 10,000 lbs per hour) production levels. Our IQF spiral freezers come with many unique features and options to meet your specific individual quick freezing production needs. If you are looking for reliability and a high return on your investment, then you need to consider the Advanced spiral freezer.
The Advanced Packaged spiral freezer delivers fast, dependable quick freezing with lower energy consumption so you save money on power. Our spiral freezers minimize product weight loss, while assuring gentle handing of your product during the process of freezing. The Advanced spiral freezer is the most versatile IQF freezer application available for quick freezing prepared food products above 1/2" in diameter.
With the Advanced spiral freezer, products are fed evenly from the production line directly onto the loading freezer belt. It then quickly transports the product into the low temperature-freezing zone. The belt spirals up or down along the rotating drum until it reaches the top or bottom where the frozen product is gently discharged from the freezer discharge port. Due to the large belt surface available, products can be frozen in single layers or individually for IQF (Individually Quick Frozen) quality. Because products can maintain their original load-in position throughout the freezing process, sorting simultaneously frozen mixed products is simplified. Increased efficiency, better quality control and lower labour costs are some of the main benefits of an Advanced spiral freezer.
Spiral Freezer Industry Applications
• POULTRY INDUSTRY - chicken parts, chicken patties, chicken nuggets, marinated chicken chunk, breaded chicken parts
• RED MEAT INDUSTRY - meat patties, meatballs, raw hamburger, breaded fried cuts
• SEA FOOD INDUSTRY - breaded fish sticks or patties, raw shrimp, fish fillets, scallops, whole fish
• BAKERY PRODUCTS - pizza crust, pie, cookie, pasta, bread dough
• PREPARED FOODS - packaged food in trays, shrimp in trays, ice cream cups, products requiring a long retention time.
Food Freezing Applications
Advance spiral freezers are used across a wide range of food applications. In some cases a unique product may require minor design modifications to the spiral freezer. Every component is manufactured in our well-equipped engineering and manufacturing facility; we can afford to pass on the savings to our customers, without sacrificing quality. Here are just some of the food industries that increase their profits with an Advanced spiral freezer:
Advanced IQF Spiral Freezer Advantages
Advanced Equipment begins with a standard design that meets most standard needs. However, we can also modify and-or custom design our equipment to your individual needs or requirements. Here are a few of the advantages that come with an Advanced spiral freezer:
Packaged and fully tested at our factory before shipping.
Fully seamless welded insulated enclosure.
Exterior direct drive system.
Ready to be placed and connected to refrigeration, electrical and water service.
Built to USDA, FDA, UL, CFIA, OSHA and CSA - Specifications and Standards
Self Cleaning with internal centerdrum washer manifold as standard feature.
Continuous inline food freezing.
Gentle smooth handling of products.
Compact packaged design for lower operation costs, while saving process floor space.
High efficiency impingement horizontal airflow allowing fast freezing.
Minimum product weight loss by exposure to coldest air temperature at all time for each tier directly from evaporator.
Stainless steel construction.
Easy access to sanitation and maintenance.
Customizable design to fit requirements.
Each tier of product directly receives the recirculated coldest air off a refrigerated -40C evaporator.
IQF Spiral Freezers are low operation cost compared to C02, nitrogen and other freezers. This is achieved by utilizing the most efficient mechanical refrigeration method, combined with our new unique low-pressure, high velocity, impingement horizontal airflow recirculation system. The horizontal airflow assures the coldest air continuously removes heat from all surfaces of the product.
The IQF Advanced Spiral freezer features a conveyor system that consists of a continuous stainless steel belt wrapped around a rotating drum, moving in a refrigerated environment. IQF Spiral freezers are able to utilize the most vertical space. Our IQF spiral freezers are ideal for applications with limited floor space.
Freezer Shipping, Delivery and Installation
Our Packaged spiral freezer is packaged in one to three split sections. Joints are easily welded together on site. All Enclosure Panel joints are seam welded on both interior and exterior surfaces to meet sanitation code requirement. USDA, UL, CFIA, CSA approved for meat plant operation.
Our packaged spiral freezer is delivered ready for installation. If you do not have someone qualified to do the install, we can send an installer. Give us a call and one of our spiral experts can answer any questions you may have. You can also schedule a free introductory consultation on our IQF spiral freezer.
Modular IQF Fluidized Tunnel Freezer
The CASCADE pass belt arrangement is an inline freezer providing positive conveying of product. The freezer is a continuous, cascade, inline, positive conveyed freezer that assures accurate freezing time and high freezing quality with low operation cost.
SEA FOOD INDUSTRY: freezes large whole fish such as salmon, cod, halibut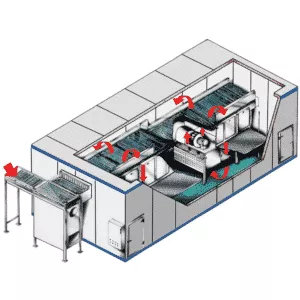 Advanced Box MRT/VRT Tunnel Freezer
The Advanced Box MRT/VRT tunnel is customized according to required capacity, dimensions and integration of the total production cycle from production to packing area. The Advanced BoxMRT/VRT tunnel  was carefully thought out saving space and achieving excellent adaptability.
High capacity
Variable/Multiple retention times
Cost efficient freezing/cooling
High flexibilty
Easy to clean
Mechanical reliable
Online support via internet
Up to 2000 units can be loaded and unloaded simultaneously.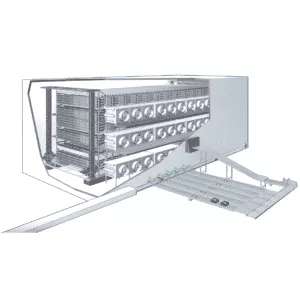 Packaged IQF Fluidized Tunnel Freezer
The CASCADE belt is a twin belt incline freezer providing positive conveying of products. Assures excellent product freezing quality and reduced shrinkage loss
SEA FOOD INDUSTRY: cooked shrimp, skin on shrimp, scallops.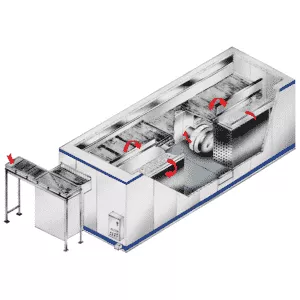 Drag-thru-dolly Tunnel Freezer
The CASCADE belt is a twin belt incline freezer providing positive conveying of products. Assures excellent product freezing quality and reduced shrinkage loss
SEA FOOD INDUSTRY: freezes large whole fish such as salmon, cod, halibut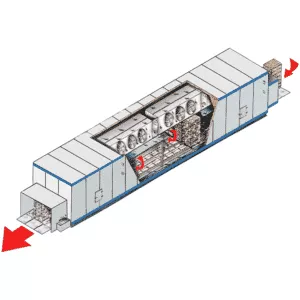 Impingement Polybelt Tunnel Freeze
Advanced Impingement Polybelt Tunnel Freezer utilizes a solid flat top polyethylene belt, which allows for gentle handling of the product and leaves no surface marks.  Ready to be moved into place.
SEAFOOD INDUSTRY: Scallops, fish fillets, shrimp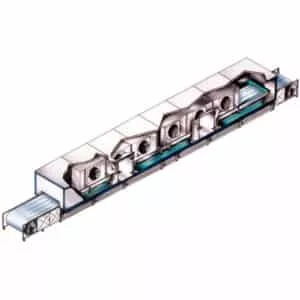 Multipass Belt Tunnel Freezer
The freezer is a continuous in-line-belt freezer designed to minimize product weight loss and assure quality gentle handling during the freezing process. Saving in processing floor space. Low operation cost.
SEA FOOD INDUSTRY: capable of a wide variety of product cooked shrimp, skin on shrimp, scallops