IQF Tunnel and Spiral Freezing for Other Food Industies
Advanced freezer appreciates that cleanliness is a priority for food plants. Our tunnel and spiral freezers offer our own CIP 'Cleaning in Place' Technology along with 40 years of reliable food freezing equipment for food processors.
Food Processing Plants sometimes have food products needing special handling. Advanced freezers has 30 years of experience manufacturing tunnel freezers and spiral freezers. With top engineers we have solved issues for food plants many times for both common and specialty freezers.
Smaller Tunnel Blast Freezers
Many of our customers have started out small and are now huge. With our modular tunnel freezers you can expand production at a much lower cost than having to replace a smaller unit with an entirely new and larger freezer. Here are some other benefits included with our tunnel blast dolly freezer:
Clean-in-place (CIP) is a method of cleaning the interior surfaces of pipes, vessels, process equipment, filters and associated fittings, without disassembly. This saves labor costs and means less downtime and more productivity.
CIP systems are used wherever the requirements for hygiene and product safety are extremely stringent
Give us a call and an Advanced freezer system expert can guide you through the details to ensure you know what you are buying. You can also schedule a free consultation on our tunnel blast dolly freezer .
Feel free to ask we want to help solve your production issues.
Hygienic  CIP 'Cleaning in Place' system
Our CIP system is available to clients at a very cost-effective price level.
Your Tunnel Freezer, when equipped with an advanced CIP 'Clean In Place' system, will save your factory labor production time and at the same time increase production with less downtime. Dependent on the type of tunnel freezer you wish to employ we offer varied CIP systems.
The Advanced CIP System Provides A Sanitary Design Of A High-Efficiency, Energy-Saving Cleaning Solution For Reduced Operating Cost, Ease Of Cleaning, And Trouble-Free Production. More Info on Sanitation....
If you are looking for the best return on your freezer investment, you should give us a call. You can also schedule a free consultation on our line of IQF tunnel freezers.
AAT BoxFreezer
The AAT BoxFreezer MRT/VRT tunnel is customized according to required capacity, dimensions and integration of the total production cycle from production to packing area. AAT BoxFreezer MRT/VRT tunnel  was carefully thought out saving space and achieving excellent adaptability.
High capacity
Variable/Multiple retention times
Cost efficient freezing/cooling
High flexibilty
Easy to clean
Mechanical reliable
Online support via internet
Up to 2000 units can be loaded and unloaded simultaneously.
Impingement Polybelt Tunnel Freezer
Advanced Impingement Polybelt Tunnel Freezer utilizes a solid flat top polyethylene belt, which allows for gentle handling of the product and leaves no surface marks.  Ready to be moved into place.
OTHER INDUSTRIES: Raw meat, fish fillet, scallops, shrimp, squid and extruded products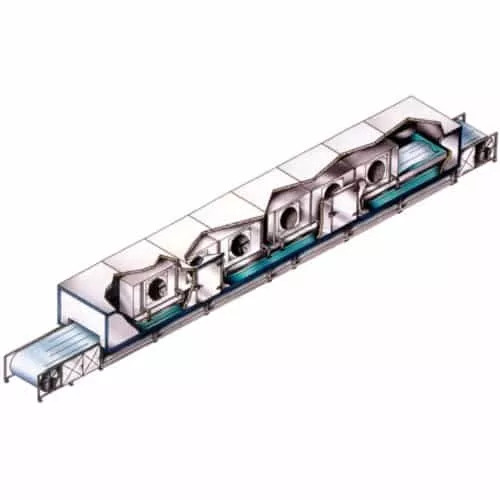 Contact Belt Tunnel Freezer
The freezer is a continuous in-line-belt freezer designed to minimize product weight loss and assure quality gentle handling during the freezing process. Saving in processing floor space. Completely assembled and pre-wired in modular sections for easy installation and for future expansion in freezing capacity
OTHER INDUSTRIES: Products in trays at reduced capacity, products in slush or extruded form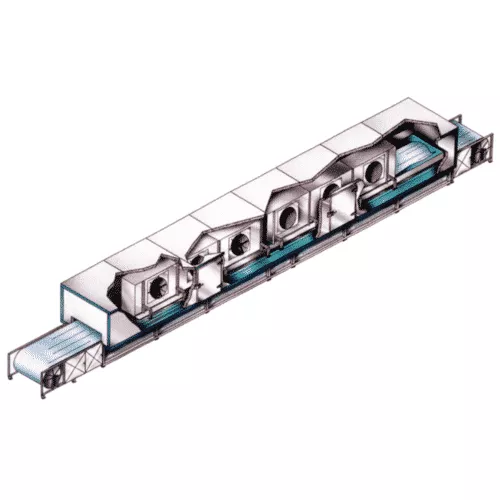 Pouch Water Cooker/Cooler
PRODUCT  SPECS FOR SITE COMING SOON
Advanced Spiral Steam Cooker
The Advanced spiral steam cooker is one of the most versatile Industrial steam cooker systems available. Our commercial food steamer is designed to cook any delicate product which is prone to product damage problems. Our commercial steamers are factory assembled, tested and wired for fast installation.
OTHER INDUSTRIES: Food products such as meatballs, meat patties, chicken parts, shrimps, perogies, prepared foods and other products are a breeze with an Advanced spiral steam cooker.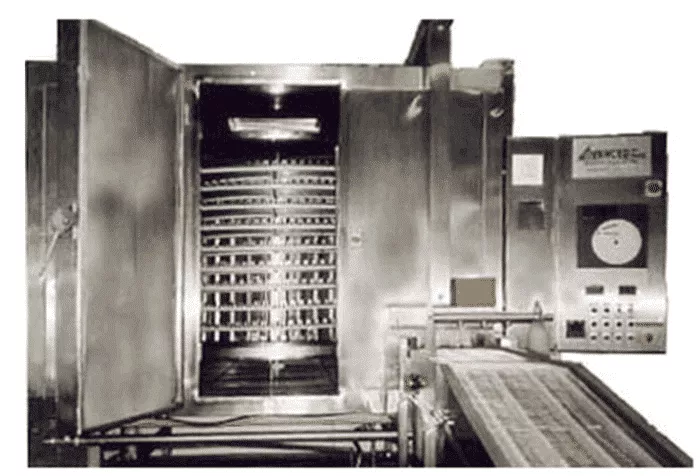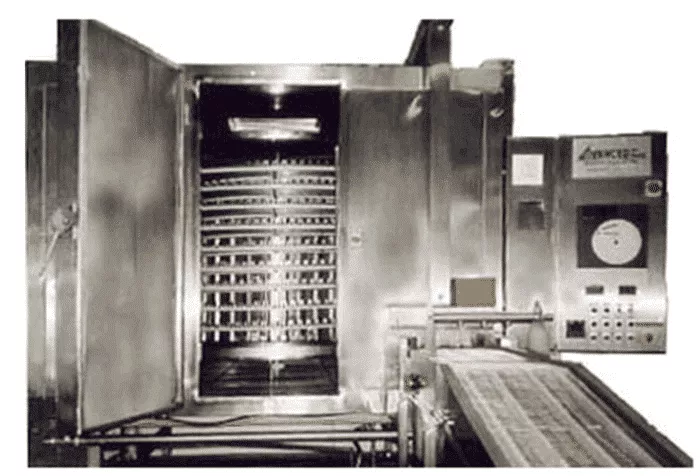 Variable Retention Time Freezer
UNDER CONSTRUCTION
The more you know about freezers, the more you will look to advanced equipment inc. as your reliable supplier.
We hold key patents on IQF freezing that provide important advantages, combined with fact almost every part of the freezer in manufactured in in-house.