Advanced IQF Spiral Freezers
Advanced Equipment has your individual quick freezing, or IQFm spiral freezer solution, especially if you have limited space. Our small, medium and large volume IQF spiral systems operate in virtually every food processing sector including convenience foods, ready meals, frozen snacks, chicken, fish and poultry products, the bakery sector (frozen bread, cakes and pastry products) and fruit, vegetables, etc. Since 1976, Advanced Equipment has been a leading global IQF tunnel and spiral freezer manufacturer that makes a dependable, cost effective and high ROI freezer.
Our spiral freezers and coolers are modified and custom tailored to your needs. For over 40 years we have forged long term partnerships with our customers. Our freezer systems are built to last. At Advanced the Quality goes in, BEFORE our name goes on.
Freezer Highlights
Our spiral freezers have a cornucopia of features no matter what your industry or food freezing needs may be. Here are a few feature highlights of the Advanced spiral freezer:
Advanced is responsive to your unique needs, concerns and food product logistics. We incorporate your food plant requirements into the design of your freezer.
360 Degree freezing controls the content's entire surface to freeze in a fast and highly efficient way.
Frozen content will retain its original freshness, texture, and flavor.
No ice build and an easy cleanup process when using our CIP system.
Advanced spiral freezers are both size and feature customizable!
Freezer Versatility
Advanced spiral freezers feature a conveyor system that consists of a continuous stainless steel belt wrapped around a rotating drum, moving in a refrigerated environment. IQF Spiral freezers are able to utilize more vertical space. Maximizing valuable space makes our IQF spiral freezers ideal for freezing large volumes of product in a limited amount of floor space.
Food plant sanitation is a priority with Advanced. We offer our own CIP 'Cleaning in Place' Technology backed by over 40 years of reliable food freezing equipment experience. We have created unique hygienic standards that lower cleaning costs and provide lower total cost of ownership.
When buying a spiral freezer it is always wise to think of the future. A good example is conveyer belts. Here are some belt factors to consider for the future when buying a spiral freezer:
Belt width
We recommend that clients have more width than needed today - in order to load faster or to merge two production lines into one spiral in the future.
Belt type
Plastic is the choice for wide belts over 44" because of radius weights.
Stainless is not an insulator and conducts cold to the bottom of the product, an obvious best choice for packaged goods
Product clearance
You may have a 1.5" thick product on line today. However, in the future you need a 4" clearance.
One of the biggest advantages with Advanced Equipment freezers is our sales and support. Our people have decades of experience in food freezing systems. We can provide options that can save you a lot of money when you expand in the future.
Move Up a Notch with an Advanced Spiral Freezer
Advanced freezer appreciates that cleanliness is a priority for food plants. Our freezers offer our own CIP 'Cleaning in Place' Technology along with 40 years of reliable food freezing equipment for seafood processors.
Advanced is primarily a refrigeration engineering manufacturer. For over 30 years we have been a leader in engineering. Often copied, our very unique freezers are installed and still functioning years later across the world. Give us a call, or schedule your free consultation on an Advanced IQF spiral freezer.
Packaged IQF Spiral Freezer
The Packaged Stainless Steel IQF Spiral Freezer is a continuous IQF food processing freezer designed to minimize product weight loss and assure gentle handing of product during the freezing process. It is the most versatile IQF freezer application designed to freeze prepared food products size above 1/2" in diameter. The freezer is packaged in one to three split sections; joints are easily welded together at site. All Enclosure Panel joints are seam welded on both interior & exterior surfaces to meet sanitation code requirement. USDA, UL, CFIA, CSA approved for meat plant operation.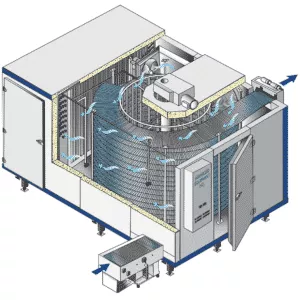 Site Assembled IQF Spiral Freezer
Advanced Site Built IQF Spiral Freezer designed to minimize product weight loss and assure quality gentle handling during the freezing process. Completely factory assembled and designed to minimize site installation time.
Completely factory assembled, tested, and disassembled into components to be easily shipped to plant for re-assembly. Frame & Belt supports can be constructed with economical Hot Dipped Galv. Steel or fully Stainless Steel version.
Freezers are built to USDA, UL, CFIA, CSA standards.