Modular IQF Fluidized Tunnel Freezer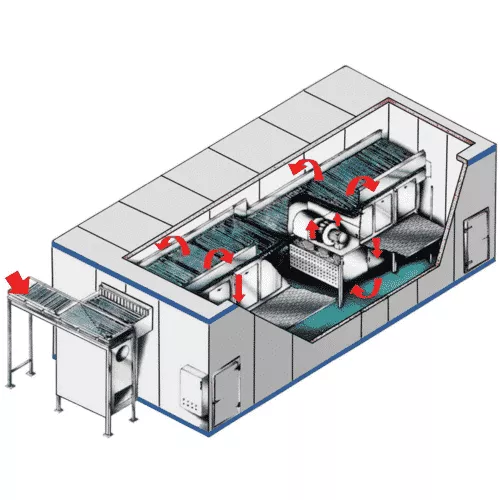 IQF Modular Fluidized Tunnel Freezer
Advanced modular IQF fluidized tunnel freezers freeze individual products as they travel through a freezing tunnel. An IQF fluidized tunnel freezer circulates cold air upwards while product passes through the freezing tunnel on a series of stainless steel mesh belts. Over 30 years, Advanced Equipment has an established reputation for manufacturing a high quality IQF freezer.
Fluidized IQF Freezer Applications
Our fluidized tunnel freezer is generally used for small IQF (Individual Quick Frozen) products that range from 3/16 to 2 inches in diameter. Whatever your food freezing production needs may be, Advanced can supply you with various tunnel designs and options ideally suited to your product. Here are some of the industries that utilize our IQF fluidized tunnel freezer:
VEGETABLE INDUSTRY: peas, green beans, cut corn, mushrooms, vegetables, French fries, cob corn, diced carrots, diced onion, cut cauliflower, cut broccoli, cut asparagus, Brussels sprouts.
FRUITS INDUSTRIES:- processed vegetables, fruits and specially prepared foods.
Advanced IQF Freezer Benefits
There are a lot of benefits and advantages that come with an Advanced Equipment tunnel freezer. Quality IQF results, efficiency, reliability, and a high ROI come with every Advanced tunnel freezer.
Advanced IQF Freezer Benefits
Versatility – Our freezers can process a wide variety of product
Continuous inline food production
High-efficiency airflow and heat transfer throughout the freezing process
Factory assembled modular sections for fast assembly.
Modular expandability to larger capacities
Easy access for freezer sanitation and maintenance
Our Tunnel Freezer Advantages
Our superior designs, parts and manufacturing processes ensure efficient individual quick freezing or IQF. Here are some of the reasons why prominent food processors rely on our tunnel freezers:
Low Freezer Operation Costs: Compared to C02, NITROGEN and other freezers our IQF freezer systems deliver far lower operating costs. This is achieved by utilizing a high-efficiency mechanical refrigeration method, combined with our unique, patented, mechanical vibration and balanced airflow system.
Low Investment: We offer one of the most economical IQF freezers available. Every component of our freezer evaporator, conveyor belting, and high-efficiency enclosure is manufactured in our highly experienced engineering and manufacturing facility. Over the last three decades, we have refined the design and development of our IQF freezers.
Freezing Quality: Our tunnel freezers ensure excellent product freezing quality and reduced shrinkage loss by continuously agitating the product during the crust freezing stage and the fluidization freezing stage. The positive and precise conveying of the product throughout the tunnel freezing cycle assures positive even freezing times. This is the key to quality IQF freezing.
Freezer System Options:
Sequential Defrost for continuous operation
Side mounted Coils
Stainless Steel Enclosure
SANITIZATION: The Advanced CIP System provides a sanitary design of a high-efficiency, energy-saving cleaning solution for reduced operating cost, ease of cleaning, and trouble-free production. Cleanliness is a priority for food plants. With over 30 years of reliable food freezing equipment, you can count on Advanced IQF freezers.
Advanced Tunnel Freezers
If you are looking for a tunnel freezer for the first time or replacing your current freezer system, you should definitely give us a call. An Advanced refrigeration engineer can answer any questions you may have and point you in the right direction. You can also schedule a free no obligation consultation on an Advanced tunnel freezer.