Impingement Polybelt IQF Tunnel Freezer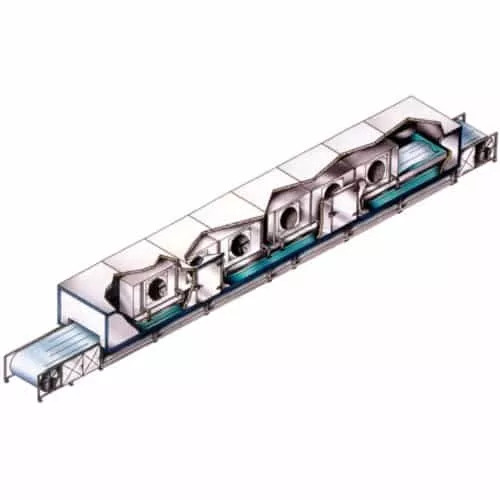 Impingement Polybelt IQF Tunnel Freezer
The Advanced IQF impingement tunnel system provides fast freezing time, minimum weight loss and quality gentle handling of the individual product pieces during the freezing process. Our IQF (Individually Quick Frozen) impingement poly belt tunnel freezer freezes single layers or individually for IQF. Low operating costs, high capacity production, low investment and a high ROI us the reason so many food processors prefer our Advanced Impingement poly belt tunnel freezer.
Advanced Equipment has been manufacturing impingement IQF tunnel freezers since 1986. We are a globally recognized brand with a reputation for a rock solid tunnel freezer. Our freezer begins with a standard design that is carefully customized to meet most standard needs. However, we also custom design our freezer systems to meet or exceed an individual customer's requirements. Versatility is included with our Advanced Impingement poly belt tunnel freezer.
FOOD FREEZING APPLICATIONS
POULTRY INDUSTRY - chicken parts, chicken patties, chicken nuggets, marinated chicken chunk, breaded chicken parts
RED MEAT INDUSTRY - meat patties, meatballs, raw hamburger, breaded fried cuts
SEAFOOD INDUSTRY - breaded fish sticks or patties, raw shrimp, fish fillets, scallops, whole fish
BAKERY PRODUCTS - pizza crust, pie, cookie, pasta, bread dough
PREPARED FOODS - packaged food in trays, shrimp in trays, ice cream cups, products requiring a long retention time.
Our Impingement System Advantages
Our tunnel freezers have a continuous in-line-belt designed to minimize product weight loss and assure quality, gentle handling during the freezing process. Products are fed evenly from the production line directly onto the loading freezer belt. The belt quickly transports the product into the low temperature-freezing zone. The belt spirals up along the rotating drum until it reaches the top where the frozen product is gently discharged from the freezer discharge port.
Also, products can maintain their original load-in position throughout the freezing process, and sorting of the simultaneously frozen mixed products is simplified. Our sorting features can offer major labour cost savings
<strong. High-efficiency evaporators and fans, with a combination of concentrated air jets, are used to achieve fast freezing time with minimum dehydration of the product. The entire system is enclosed with a stainless steel finish high efficiency insulated enclosure. Over 30 years of refrigeration expertise and experience is behind every Advanced Impingement poly belt tunnel freezer.
Impingement Features
Here are just some of the features included with our Impingement poly belt tunnel freezer:
Pre-assembled, tested and disassembled at our factory before shipping.
Continuous inline food freezing.
Gentle smooth handling of products.
Lowest reliable operation cost.
High-efficiency Vertical down Airflow allowing minimum heat loss.
Hot Dipped Galv. Steel Constructed or Stainless Steel as an option.
Built to USDA, CFIA, FDA, OSHA, UL AND CSA –Specifications & Standards.
Low operation cost compared to C02, nitrogen and other freezers,
Ready to move up to Advanced?
Our Impingement poly belt tunnel freezer is one of the most economical freezers offered in its class. Every component of our freezers is manufactured in our well-equipped engineering and manufacturing facility for quality control. Manufacturing in-house enables Advanced to pass on the savings to our customers without sacrificing quality.
Give us a call and an Advanced freezer expert can guide you to the perfect solution for your food freeze processing needs. You can also schedule a free consultation on our - Impingement poly belt tunnel freezer.
Select to View Food Plant Freezer Types by Industry